Combining Procedures to Create a Total Mommy Makeover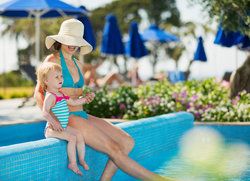 Having children is one of the most wonderful things a woman can experience, but it can also result in changes to your body that cannot be reversed through diet and exercise alone. Many women would like to have a number of surgical procedures performed to restore their bodies to their pre-pregnancy appearance, but do not know where to begin. For these women, we offer the total mommy makeover at our Pittsburgh-area practice. At The Hurwitz Center, our award winning surgeons, are known for their innovative techniques and the level of care and attention they give to each of their patients. If you would like to learn more about the procedures we can perform as a part of your mommy makeover, please contact our office to schedule a consultation.
Common Procedures
A mommy makeover is a completely customized treatment plan made up of multiple procedures. Every plan is unique and is designed to address each individual's concerns and treatment goals.
When you come in for your initial consultation, you will discuss your objectives and receive recommendations on how best to achieve these results. Procedures that are commonly performed as part of a mommy makeover include:
Additionally, many women choose to combine facial procedures such as a facelift as part of their mommy makeover treatments. We also offer FemTouch™ vaginal rejuvenation, a nonsurgical treatment that can address issues such as vaginal dryness and urinary incontinence. In most cases, as long as you are in good health and not combining a large number of procedures, your surgeries can be performed during the same appointment. This means you will only need to undergo one recovery period, and may even enable you to save money on related surgical fees.*
Schedule a Mommy Makeover Consultation
If you have questions about the mommy makeover procedure and would like to learn more about whether it is right for you, please contact our office to schedule a consultation.
"

I honestly never thought of myself as a serious candidate for elective surgery ... but I'm already feeling and looking so much better.*

" Jill's Story